Manhattan kit
More Information
WHAT'S INCLUDED

Why you will love Paint By Numbers
Perfect For Beginners - Match the numbers on the canvas with the corresponding labeled numbers on the paint. It is easy to follow and suitable for all artistic abilities. 
Relax - Take your mind off stress and anxieties. Research shows that creative activities like coloring and painting help reduce stress.
DIY Home Decoration - Create your own wall art, add a frame to your painting so you can hang it on your wall.
Fantastic Bonding Activity - Grab a wine and spend a night in with family or friends to create your own beautiful piece of art to share.
The Perfect Gift - This makes for a thoughtful gift for anyone who enjoys crafts.
||shipping_location||
Free Shipping: Free domestic shipping on orders over ||free_shipping_amount||!


Processing Time: All orders leave our warehouse within 48 hours on business days.


Shipping Time Estimates: 
||shipping_times_table||
Please keep in mind delivery times listed above are our best estimate.
Tracking: You will receive a shipping confirmation with a tracking number as soon as your order has been sent out.
Returns: Simple Returns up to 30 days from when you received your item.
Money Back Guarantee: We offer an easy, hassle-free 30-day money back return policy.
For complete details, read our Returns policy.
Please contact us at support@paintplot.com.au with any questions.
Key Features
Beginner friendly
Calming & relaxing
Grow your creative knowledge
Highest quality canvas
30 day money back guarantee
Customer Reviews
Write a Review
Ask a Question
09/12/2021
Andy

Australia
New York City!
I enjoyed painting this one! The quality of the canvas and the paints is good, and one set of paints were enough. The picture is true to the one online. I extended 'Central Park' more than the picture originally allowed and took some liberties with the colouring. I also deleted One World Trade Centre at the very back of the horizon because I felt it looked blurry and out of place so I mixed it back into the sky. There were definitely some numbers missing as others have said but you can pretty much just put in whatever you like as most colours are either creams, oranges or browns.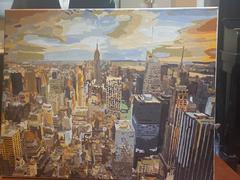 08/15/2021
Eliza W.

Australia
Buildings look great, sky is a bit weird, the sections definitely don't look like clouds
Overall this is a good painting. Not super challenging, although there are some sections that don't have numbers so I had to guess. The sky looks weird in my painting - the colours definitely don't match the photo. It looks more like weird segments and less like clouds which is a bummer. The buildings look great though.
06/12/2020
Narelle H.

AU
customer service great
I bought the Manhattan skyline pic as my first painting. I had some tiny issues with the print as the printer had made several errors which made it difficult to see what the number was, however when I raised it they immediately sent me a PDF copy and this has assisted a lot. I also didn't get the frame I purchased but I simply emailed them and they have advised me it is in its way. Overall it has been a good experience.